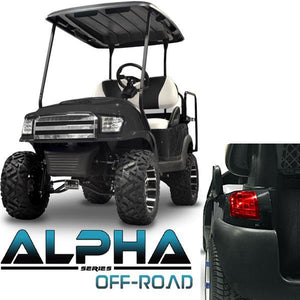 Black 'ALPHA' Off-Road Body Kit for the Club Car Precedent, Onward, Tempo 2004-Up Gas & Electric Models
Kit Features:
- Madjax Exclusive Design
- Automotive-style Ultimate Plus Light Kit
- Headlights include a daytime running light feature
- Color-infused plastic with a high-gloss scratch-resistant clear coat finish
- Front & rear body sections with off-road style front grill with chrome finish (shown with optional color match hood scoop; sold separately)
- Plug and play bucket wiring harness
Easy Installation
You Deserve Look Good and Feel Great in a Custom Golf Cart Body Kit
You don't want to be caught dead in that plain old Club Car Precedent, Onward, or Tempo (gas or electric) of yours! Can you even imagine what the neighbors are saying?!? You know what you need? You need to upgrade to the Alpha Off-Road full body golf cart kit from Madjax.
Whether you're looking for blue, red, black or white, the Alpha Off-Road golf cart body kit will transform your basic Club Car Precedent, Onward, or Tempo into a sweet custom ride that will catch the eyes of everyone in the community!
SAY "NO" TO BORING GOLF CARTS!
It's no fun driving around in an old, boring golf cart, which is why our sole focus is on custom golf cart body kits and specialty golf cart accessories and parts to make your cart look amazing! (Plus, we offer all the installation videos you need so you'll feel 100% comfortable upgrading your cart - all on your own.)
WE MAKE IT EASY TO BUY
We make it easy for you with The Converted Carts Commitment, our promise to give you a fantastic experience in every way - searching, learning, buying and owning your customized golf cart.
YOU'LL BE THE ENVY OF YOUR NEIGHBORS
At Converted Carts, we know you want your golf cart to be the envy of your neighbors. In order to do that, it needs to look better than all the other carts on the block. The problem is your golf cart isn't near as cool as you want, which makes you feel embarrassed, not envied. We believe you deserve to look good and feel proud of your golf cart.
Black 'ALPHA' Off-Road Body Kit for the Club Car Precedent 2004-Up Gas & Electric Models
---